Tai Chi Video, DVD and Online Courses for Home Study
---
Master Cheung has created an elegant program for self-healing and spiritual development which students learn and practice on their own. It is a progressive system which empowers students to develop their innate abilities. These Home Study Courses, available in DVD, Video and Online Correspondence course formats, present the essence of traditional and esoteric teachings in an accessible and straightforward manner.
---
Tai Chi Qigong Shibashi Set 1 – This qigong is one of the most popular in the world and is designed to balance qi flow. It is an effective and easy-to-learn routine which synchronizes gentle movements with deep breathing. Many practitioners start to feel qi and experience significant health improvement after practicing for just a few weeks. (4th edition)

Silk Reeling Exercise for the Spine and Joints – A simple exercise which uses circular and spiraling movements to loosen and open the joints from ones core to the extremities. This improves spinal alignment, flexibility, and balance. It also assists in developing internal power.
For Students who have Learned the Set 1 Tai Chi Qigong Shibashi:
---
Qigong Mode & Tai Chi Posture Requirements – This program reveals the keys to effective qigong practice. It shows how to use the mind in concert with proper movement to achieve the maximum benefits of qi flow. This knowledge is indispensable for serious practitioners! It may be applied to any style of qigong and even to daily activities.
Tai Chi Qigong Shibashi Set 2 – This set focuses on opening the meridians of the lower body, resulting in improved balance, body coordination and endurance. It is excellent preparation for those who wish to learn standing qigong. (2nd edition)
Tai Chi Qigong Shibashi Set 3 – A transition from qigong to neigong (a more refined and deeper practice). This set goes beyond the physical actions to develop subtle internal skills. In this program, Master Cheung reveals some 'secrets' of neigong which other masters divulge only to select 'inner circle' students.
For Dedicated Qigong Practitioners:

---
Qigong Mode & Tai Chi Posture Requirements Level 2 – As a continuation of the Level 1 program this course will advance your qigong practice.  It transcends the physical mode and introduces inner practices to make sure qi penetrates deeper into your body.  At deeper levels qi is able to do its magic: preventing disease, bringing vitality and insuring mind/body health.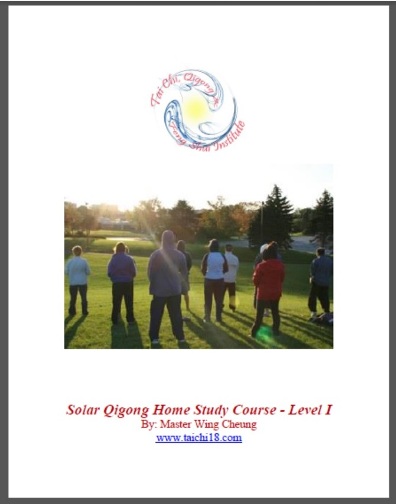 Solar Qigong – This system, based on ancient techniques for self-healing & spiritual enlightenment, is quite profound yet easy to learn. It focuses on the meditative side of qigong practice for healing the body, mind and spirit.
Certified Tai Chi Qigong Instructor Correspondence Course – This course is designed to give the dedicated practitioner or future instructor an opportunity interact directly with Master Cheung. Students receive feedback and a personal assessment of their form and knowledge. It is especially advantageous to those who do not have access to a certified instructor and are unable to attend the workshops.